Concrete Perspectives January 2015
Internal News
European Parliament, Brussels – BIBM offers solutions for the cities of tomorrow and calls for predictable and coherent regulations for SMEs' and for industrial competitiveness
On 8th January 2015, representatives of the European Precast Concrete Industry, associated under the umbrella of BIBM, gathered together in Brussels to reach out to a variety of political families and nationalities among Members of the European Parliament.
The agenda for the day included an intensive program of meetings with more than 10 MEPs' offices in the form of personal meetings and lunch debate.
In light of several forthcoming policy developments – such as the review of waste framework directives, the forthcoming new report on circular economy package (including the Resource efficiency opportunities in building sector) – BIBM members were keen on to discuss with MEPs on the future solutions for smart cities, infrastructures and landscaping; from a social, environmental and economic perspective.
Furthermore, BIBM members pressed MEPs and representatives of the European Commission on the need to maintain a material neutral legislation and called for performance based legislation.
The working lunch was moderated by Martin Clarke, OBE and it was kindly hosted by MEP Paul Rübig (Austria, EPP) titled "Smart cities – building the future (the precast way)". In his opening remarks, MEP Rübig highlighted the necessity to ensure an SME and business friendly legislative environment, in which small business can develop and can contribute to industrial competitiveness.
Ms Josefina Lindblom gave the keynote on "Resource efficiency opportunities in the building sector". She highlighted the huge capacity of the building sector to help Europe reach resource efficiency. As an answer to the question of new priorities of the European Commission and the withdrawal of the Waste Framework Directive, she said that the new Commission plans to issue a new, more ambitious proposal in the course of 2015. Resource efficiency and circular economy remain main priorities for this year.
Mr Guus Mulder from TNO gave a very interesting and informative presentation on "Future technological and demographic trends – understanding smart cities of the future". He gave an extensive list of current innovations in the building industry (process, technical and product innovation). Design for disassembly, easily adaptable buildings to respond to changing needs and demand for high quality materials and buildings were listed as the main future trends.
Mr Claus Bering, BIBM Vice-President gave a broad overview of smart solutions already existing with precast concrete. These solutions are able to respond to the above mentioned trends and provide safe, high quality, flexible solutions for future cities and neighbourhoods. Furthermore, he also presented the social, environmental and economic benefits of precast concrete, which is an important contributor to the local economy.
In his closing remarks, Jaime Delclaux, the President of BIBM, said: "Today has been all about ensuring that our European decision makers learn more about our sector specificities when it comes to business models and new, innovative solutions for Europe's demographic and urban challenge. Future decisions should be based on concrete knowledge as to what kind of solutions we offer, what are the sector specificities, how many people we employ and our commitment to provide innovative, adaptable, resource and energy efficient building and infrastructure solutions for Europe". He added that "the precast concrete industry is an industry with solutions for the future. Our businesses are 99% small and medium businesses therefore reduced administrative burden and SME friendly legislative environment is crucial for the sector."
BIBM Brochure: Concrete Innovation – Precast solutions
Construction Sector
In the last 10 years, the Eastern European region doubled its share of the European construction market.
Live from the European Union
International Labour Organisation (ILO) publishes research study on An employment-oriented Investment Strategy for Europe
The study provides further information in relation to the Juncker Investment Plan which aims at creating economic stimulus to foster Europe's competitiveness. The study found that "with careful consideration, €2,1m jobs can be created by mid-2018".
The paper recognised the importance of small and medium businesses in job creation and recognises that guarantees are need to ensure that private investments are done and it will result in job creation.
On 29 January, at the Employment Committee meeting, Mr Raymond Torres, Director of ILO Research Department said that the European Investment Bank could eventually offer guarantees to ensure that investments are made. MEPs raised several questions regarding the quality of job which will be created, and several concerns were shared over the investments counted on the private sector. More precisely, concerns were raised over the Member States who were hit by the crises and are still not recovering. Their capacity of private investments could be much less than countries already on the way of recovery.
There are only in three countries, Germany Malta and Poland, where unemployment rates are below pre-crises level.
As for the support of trainings and education, the importance of early detection of market needs was emphasised and the prediction of potential skills which are essential to technological and market developments.
SME Initiative is signed with Spain
On 26 January, Spain signed the SME Initiative, which will unlock more than €3.2 billion of additional lending for Spanish companies with fewer than 250 employees (SMEs). Vice-President Jyrki Katainen said: "SMEs from Madrid to Barcelona to Bilbao will have easier access to cheaper loans to support them as they invest and grow. This is great news for the Spanish economy…"
With the signature, Spain set example for other Member States to use this innovative financial instrument.
European Commission – Press Release
Public hearing on Waste Framework Directives
On 22 January, the European Parliament's Environmental Committee held a public hearing on waste framework directives. Five experts were invited to the hearing, their speeches was followed by question from the Rapporteur (MEP Bonafé) and other MEPs.
For further information and detail about the hearing, please contact the BIBM Secretariat.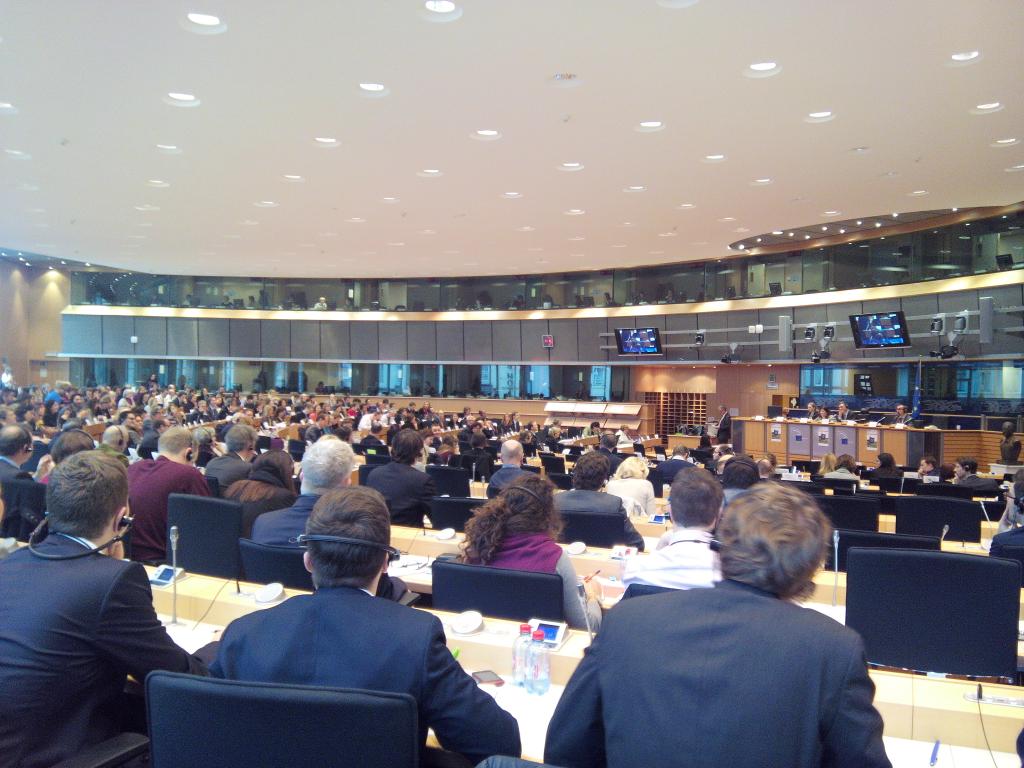 European Commission adopts legislative proposal for the European Fund for Strategic Investments
On 13 January 2015, the European Commission put forward a legislative proposal with details on how the Juncker Investment Plan will work in practice. The new law proposal contains the European Fund for Strategic Investments (EFSI) which will be the main channel to mobilise the promised more than €300 billion in additional investment in the real economy over the next three years. The European Investment Bank will be a strategic partner to establish the funds.
With the aim of creating jobs and boosting growth, the Juncker plan –announced in November last year- aims to inject €315 billion into the European economy over the next three years, which will be financed primarily through the capital markets.
A preliminary list of more than 2.000 eligible projects have been provided by the 28 Member States for consideration by EIB and the Commission (the full list can be found here)
In the next steps, the above mentioned legislative proposal should be adopted by the "ordinary legislative procedure" by the European Parliament and Council of the EU.
European Commission – Press Release
Reference in Legislative Observatory
Latvia takes over the Presidency of the Council of the EU
On 1 January 2015 Latvia took over the rotating presidency of the Council of the European Union, handing over the new Trio Presidency which is started in July 2014 with Italy and will finish with Luxembourg at the end of December. Along with the main priorities of Trio, Latvia will also pursue job creation, economic growth, competitiveness and creation of digital economy.
News in brief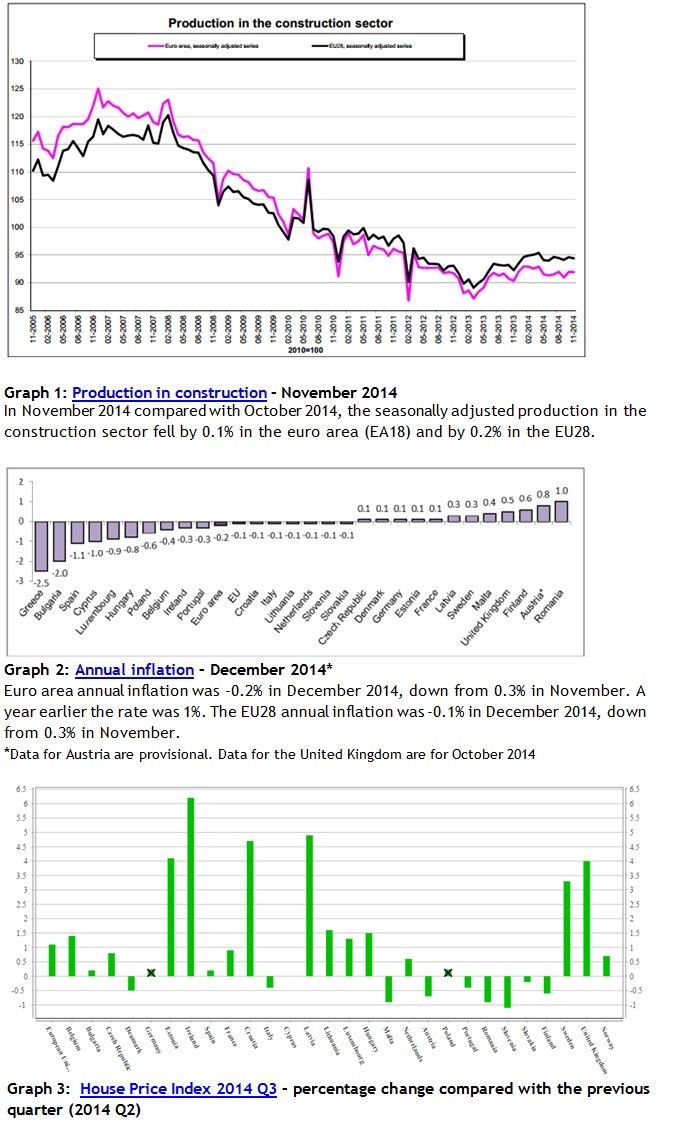 Agenda
FEBRUARY
3 February 2015
CPE TF Implementation of CPR
Brussels, Belgium
3 February 2015 (PM)
BIBM meeting with Commission chairs
Brussels, Belgium
4 February 2015
BIBM Board meeting
Brussels, Belgium
10 February 2015
Joint TC 229/TC 104 meeting on PCR
Brussels, Belgium
11 February 2015
CEN/TC/229 WG4
Brussels, Belgium
23 February 2015
BIBM Directors meeting
Ulm, Germany
27 February 2015
ECP TF Fire and Eurocodes
Brussels, Belgium
MARCH
5 March 2015
"Circular Economy" Conference
Brussels, Belgium
6 March 2015
ECP Board
Brussels, Belgium
10 March 2015
ECP AhG Thermal Mass
Brussels, Belgium
12 March 2015
CEN/TC/229 WG4
Brussels, Belgium
17 March 2015
AhG Concrete Initiative
Brussels, Belgium
24-25 March 2015
BIBM Technical Commission
Brussels, Belgium
To the Newsletter of Construction Products Europe (former CEPMC), please follow this link.
To read the Newsletter of CEMBUREAU, please follow this link. You can also subscribe directly following this link http://www.cembureau.eu/newsletter/subscriptions.
To read the Quarterly Newsletter of The Concrete Initiative, please follow this link.
List of Acronyms
CPE – Construction Product Europe
CPR – Construction Products Regulation
ECP – European Concrete Platform
TF – Task Force
AhG – Ad-hoc Group