Kruunuvuorenranta – Finland
Kruunuvuorenranta in Finland
Three-dimensional facade wins award of the Year 2017 Concrete Structure
The recipient of architectural award the Year 2017 Concrete Structure is Architects Arkkitehtuuritoimisto B&M Oy from Helsinki for their Kruunuvuorenranta waste transfer station project.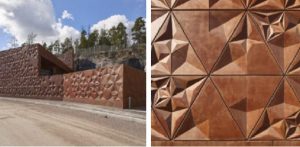 The winning entry combines architectural design with an innovative three-dimensional facade solution. In the architecturally skilful building complex, massing and the expressive facades with their scale and details connect the mundane and technical building as part of the new residential area and the surrounding natural landscape.
Waste collection is in the new residential area implemented with a pipe collection system with waste from the houses and blocks transferred to a common transfer station along underground suction pipes. The transfer station building leans against a steep excavated rock wall. The design of the transfer station conceals the waste handling processes without any need for screens. The independent building with its green roof complements the surrounding rocky landscape and also gives an interesting view to the residential area opposite.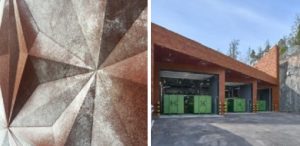 3D modelling has provided a means to implement a new formwork technique for cost-efficient implementation of industrially produced precast concrete units. The diversity of the appearance of the facade is based on only four different rectangles which are placed in different positions to create an impression of a complex complete picture.
The rusty patination of the facades as well as the innovative architecture link the building to the shades of the rough rock cutting and forest landscape. The architect's idea to dye the grey mundane concrete surface in a brown tone that glistens in sunlight emphasises the facades of the building and at the same time is a cost-efficient way to implement a lively whole within a strict budget framework.
Builder: Kruunuvuorenrannan Jätteen Putkikeräys Oy
Architect planning: Arkkitehtuuritoimisto B&M Oy
Structual planning: FCG Suunnittelu ja tekniikka Oy
Main contractor: Rakennuspartio Oy
3D-modelling of elements: Betoniviidakko Oy, Topi Äikäs
Producer of prefabricated elements: Parma Oy, Kangasalan tehdas
Patination of the facades: Betonipallas Oy