Portrait of king Willem-Alexander – Netherlands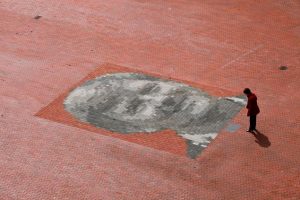 Each year in Holland, the birthday of Queen Beatrix is celebrated on 30th of April. It's a national holiday, when everybody is dressed in orange and celebrates with music and markets. Normally, the Royal family visits two Dutch towns to celebrate with the inhabitants of the village. This year, however, the announced visit of the Royal family was cancelled, due to a historic event: Queen Beatrix handed over the power to her son, Willem-Alexander. He was crowned king of the Netherlands on the 30th of April.
The cancellation of the visit to the chosen towns was a disappointment for the local communities. The Dutch Precast Association (BFBN) however decided to comfort the towns and their inhabitants with a special gift: a portrait of king Willem-Alexander, made out of concrete pavement stones. The portrait, made out of five shades of grey stones, got a place of honor in the two Dutch towns Amstelveen and Graft-De Rijp. The portrait is best to be viewed from a height. In the picture the portrait as it is to be seen in Amstelveen, on the city square.