Smets Premium Store – Belgium
FIRST PRESENTATION OF THE PRECAST CONCRETE AWARDS
Jury: Olivier Bastin (Brussels Master Builder, Architectural firm L'escaut), Francis Catteeuw (Architectural firm Compagnie O), Arnold Van Acker (prefab concrete expert, advisor FEBE), Dirk Stove (Grontmij)
MOST OUTSTANDING PROJECT IN PRECAST CONCRETE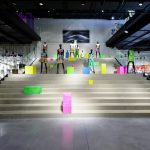 Award for:
Zoom Architecture Brussels – architects (Florent Cenni)
Prefaco – supplier precast concrete (Eric Sels)
Ergon – supplier precast concrete (Pieter Van der Zee)
CFE Bouw – contractor (Christophe Van Oppem)
Smets Concept Store Brussels is the Brussels branch of the Luxembourg fashion empire Smets. The owners deliberately did not choose the elegance of the Avenue Louise; instead they chose a more easily accessible part of Brussels. The main part of the building is made out of precast concrete. Concrete remains visible in the interior and with the use of precast beams, large lengths of almost 10 metres were easily spanned, making it possible for almost half of the pillars to be left out. The construction of the building is made up of concrete slab flooring, double walls, beams, solid walls, double T elements and pre-stressed floor elements, all made of precast concrete. All of this guarantees 4000m2 of shopping and design fun.
"Smets Concept Store is a very successful project in terms of aesthetics, building technology and its focus on the surrounding environment, and all of that using one single material – precast concrete. Industrial concrete as a framework for a high-end clothing & design store was not an obvious choice at all. The jury sees it as a daring, but successful choice.
In terms of functionality and building technology, precast concrete has been the right choice according to the jury. The shop is located in a densely-built, urban context on an important main road. This environment is ideal for building in precast materials and one in which this building technique produces optimum results. The jury also adds that, when looking at the result, architect and contractor have worked together extremely well in all phases of the project. That as well deserves praise."