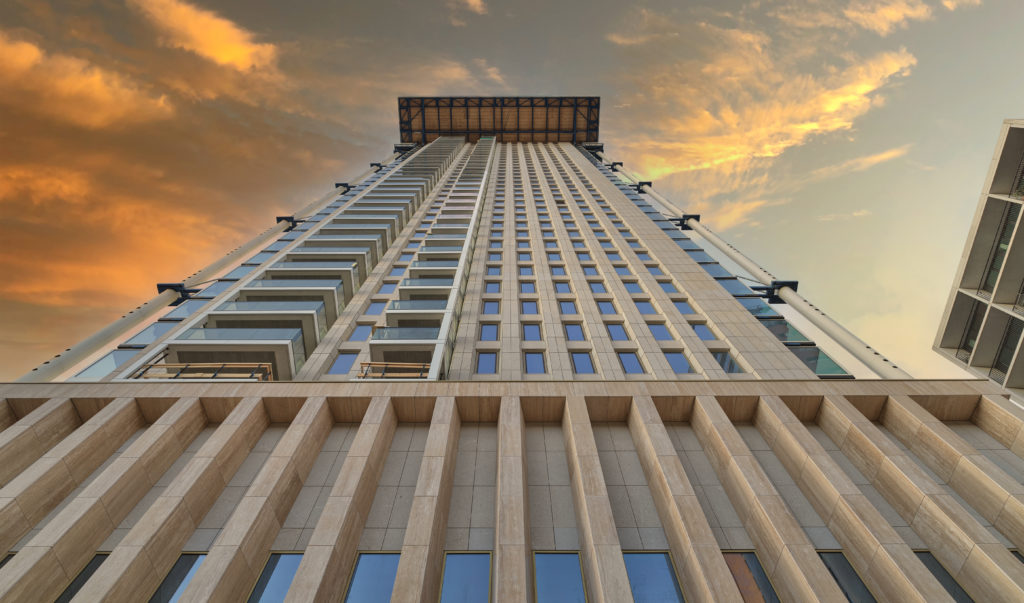 In the overcrowded area between Amsterdam, Rotterdam, The Hague and Utrecht, hundreds of thousands new homes will have to be built by 2030 to meet the growing demand.
The solution for this? Up to the heights! The 215-meter-high 'Zalmhaven I' in Rotterdam, near the Erasmus Bridge, is entirely constructed from prefab elements. The tower will have no fewer than 452 apartments and penthouses, 33 mansions, a parking garage, offices, commercial spaces, a roof garden and a restaurant with a view of the impressive Rotterdam skyline.
The advantages of prefab building
Perhaps one of the most important reasons for choosing precast concrete for the project is the reduction in construction time. A high-quality building can be completely executed within a short period of time. The quality of the prefab elements is also particularly high because they are manufactured in a conditioned environment, which is an absolute requirement for projects of this size. In addition to construction speed, construction safety is also important for such a large project as 'De Zalmhaven'. A precast concrete skeleton offers an advantage in this respect. Safety on and around the construction site is considerably increased and a limited assembly team is sufficient for the assembly of the elements. Fewer transport and hoisting movements are required and noise nuisance for the surrounding area is kept to a minimum.
One floor per week
The target is one floor per week for the high-rise of the project. Instead of four years, the realization now only takes three and a half years. A so-called hoisting shed is used: a platform with cranes that is always pushed up one floor. By limiting the construction time, there is less nuisance for the surrounding area, which is highly desirable for inner-city development.
The tower and a second office building will be designed by Dam & Partner architects, with Claus en Kaan Architecten designing a residential unit. After completion it will be one of the tallest residential towers in Europe and the tallest building in the Netherlands.
Construction started on 25 October 2018 and completion is set for 2022.
More information on: www.byldis.com
---