British Precast Best Practice Awards 2017
British Precast Concrete Federation held its annual Best Practice Awards in last May. The awards are split into five categories: Innovation, Health and Safety, Project, Sustainability and Outstanding Contribution to Health and Safety.
Innovation award winner[1] – Marshalls, Keydrain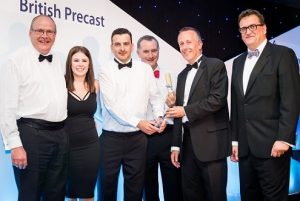 'Keydrain' is a single piece concrete drainage unit with a central core specifically designed to drain surface water away. Dual slots pressed into the surface of the unit transfer water to the core via a perpendicular slot at each end face when placed adjacent to one another. Any required length can be achieved by simply adding more units. The product enters an arena which is traditionally filled with non-concrete solutions such as linear channel systems with a plastic or steel grate. A key benefit of Keydrain is its aesthetic appeal as it is manufactured in a variety of concrete colours, which compliment the surrounding concrete or natural stone paving products. Additionally, the shape and weight of Keydrain enables simple installation.
Health and Safety award winner[2] (less than 250 employees) – Beresford's Flooring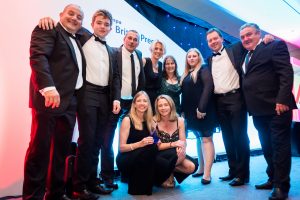 With a new lightweight system named 'The Hole System', a number of operations to the underside of Hollowcore floors can now be completed from ground level. This has reduced working at height, repetitive strain risks, exposure to dust and alkaline drilling wash water, and other risks associated with the regular assembly and moving of access equipment.
Health and Safety award winner (250 or more employees) – Brett Landscaping and Building Products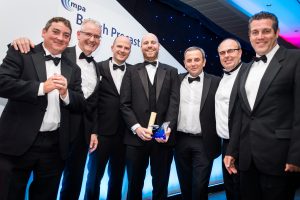 Creating a combined scrap handling system and improvements to the pallet transfer conveyor have drastically reduced gate access frequencies and exposures in both scrap and pallet areas for Fork lifts and personnel alike.
In addition, reduced manual handling and improved posture during work, with reductions in twisting and reaching, have also been recorded.
This award provides a mechanism for companies and the wider sector to celebrate the positive influence and impact that individuals and teams have made to create safer and healthier workplaces.
Project award winner[3] – Techrete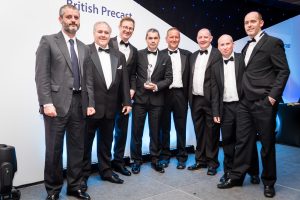 For the flagship John Lewis store in Leeds, the diagrid pattern was deconstructed by Techrete engineers to panelise a façade to enable production. Innumerable intricate details regarding the geometry, the engineering and the manufacturing were combined in 3D BIM, from which over 600 drawings were generated.
Many challenges were successfully overcome: accuracy of facetted corners, contrasting finishes within single units, installation of unusually shaped units of up to 14 tonnes in weight and the requirement for unique permanent fixing methods.
Precast concrete products are used for a wide range of applications in our built environment. This award showcases projects that deliver on aesthetics, functionality, innovation, workmanship, cost-effectiveness and demonstrates the inherent benefits and properties of precast concrete.
Sustainability award winner[4] – Forterra, Whittlesey Plant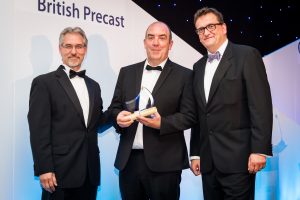 Forterra's Whittlesey factory has been introducing measures to improve efficiency and reduce energy consumption over several years.
In 2016 the management team increased production by 12% while improving energy efficiency through a number of measures such as investing in new pallets, improved preventative maintenance programmes, loading shovel replacement, new burners, improved curing control systems and increased insulation.
This series of relatively small improvements have led to a saving in 2016 of 9% compared in energy consumption to 2015 and almost 18% when compared to 2014 when the project started.
This award rewards excellence within the British Precast membership and publicises the progress of the industry towards sustainability.
Outstanding Contribution to Health and Safety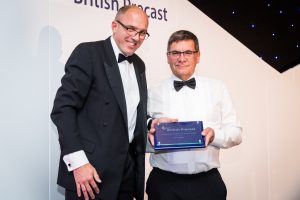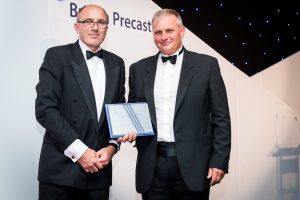 Glenn Regan from Forticrete Chris Taylor from Stanton Bonna
This award is given to individuals and teams in recognition of leadership, special efforts, or significant contributions to improvements in health and safety in the business or along the supply chain.
Chris Taylor from Stanton Bonna, and Glenn Regan from Forticrete who win the award.
[1] The 2017 Innovation Award was sponsored by Chryso UK
[2] The 2017 Health and Safety Award is sponsored by Forterra
[3] The 2017 Project Award is sponsored by CARES
[4] The 2017 Sustainability Award is sponsored by GCP