Administration building- Krems, Austria
Administration building- Krems, Austria
The Niederösterreichhaus building complex in Kremscaptivates with its masterly balancing of the new and the historical. The three buildings match their small-scale
surroundings on the edge of the old town of Krems, but function as a single entity through the connecting bridge components.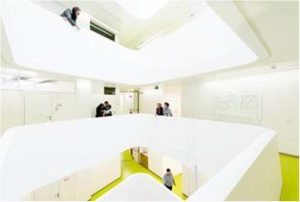 The passive house idea was interpreted as holistic concept covering both low resource consumptions during construction and energy efficient operation in future. Particular attention was paid to selecting optimal materials and providing high-grade user comfort. The new building houses several government agencies in one location, which makes both Intra-administration communication and citizens' lives easier.
Architecture: AllesWirdGut
Architektur ZT GmbH, feld72
Architekten ZT GmbH,
FCP – Fritsch, Chiari & Partner
ZT GmbH
Energy consumption rating:heating energy demand 2.6 kWh/m³a (energy certificate).
Building services: The entire office block has controlled(bidirectional) ventilation. District heating supplies residual heating energy. Photovoltaic panels and a heat pump are also on hand.