Apartment building – Finland
The Finish Concrete Facade of the Year 2011 Architectural Award was win by the apartment building of Helsingin Asumisoikeus Oy Kaanaankatu 6 and Kumpulan Kiinteistöt Oy Kaanaanpiha 4 . The project architects were SAFA Risto Huttunen, Paula Leiwo and Mikko Blomberg.
Small details make the building an interesting and versatile whole. The details play with light and shadow on the facades giving them many different expressions depending on the time of the year and the time of the day. Art columns designed by sculptor Pekka Kauhanen and cast in white concrete are an integral part of the facade construction.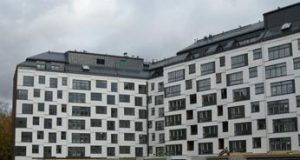 The town plan called for redbrick street-side facades built on the site. The facades facing the internal courtyard are based on repetition and mirroring of precast white concrete elements composed with flashbacks to Arabic ornamentals. The technically demanding production and installation of the precast elements has been successfully implemented and complements the high standard of the outward appearance of the building.