British Precast Best Practice Awards 2015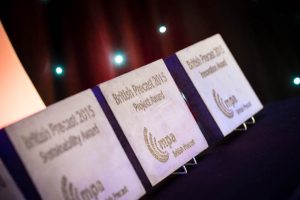 The British Precast Best Practice Awards are presented annually to Full and Associate members who enter into the five categories: Health & Safety, Outstanding Contribution to Health & Safety, Innovation, Project, and Sustainability. These awards are a fantastic opportunity for members to celebrate and showcase their achievements to the industry over the year.
Health & Safety and Outstanding Contribution to Health & Safety Awards: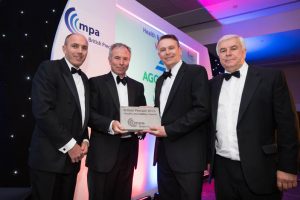 Health and safety has and will always be of key focus for British Precast and our industry. These two awards are given to a member company and an individual/team that have demonstrated an active commitment to reducing harm. The 2015 Health & Safety Award was won by Aggregate Industries for their improvements on Load Security.
Innovation Award: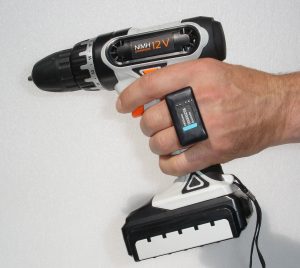 Our members are continuously at the forefront of improving processes and introducing new products to the industry. HAVSco have developed a unique high-tech system which measures, records and analyses personal Hand Arm Vibration dosage as it occurs. This won the 2015 Innovation Award.
Project Award: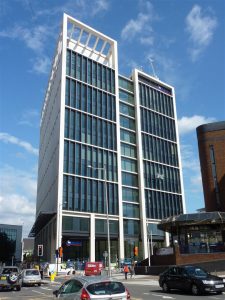 This Award recognises outstanding projects for which member supply products and have contributed to the project's success. The 2015 Project Award was presented to Thorp Precast for their design and manufacture of precast concrete for the new Admiral Headquarters in Cardiff, Wales. Thorpe used white Portland architectural precast concrete cladding with a high-quality surface finish featuring slightly exposed natural limestone aggregates for the 11 storey building.
Sustainability Award: H+H UK
Sustainability is an increasingly important issue for the concrete industry and all British Precast members are committed to improving their performance on the environmental impact of their products and systems. The 2015 Sustainability Award recognised the work carried out by H+H UK for their energy management system & reduction.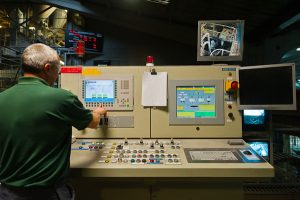 A range of policies and procedures were developed to manage energy consumption which has resulted in 20% reduction in energy usage per m3 of product in 2014 from 2009 levels. H+H UK was one of the first manufacturers to be certified to EN 16001, which was followed by certification to the international energy management standard ISO 50001.
*all pictures are of the curtesy of Martin Neeves Photography – www.martinneeves.com – Tel: +44 (0)7973 638591 – E-mail: martinneeves@googlemail.com