Concrete Structure of 2011 – Finland
Toukola shore park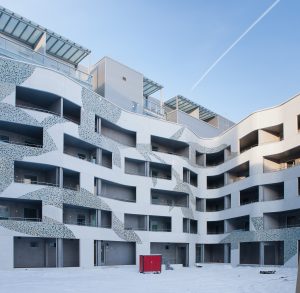 The buildings of Housing Corporation Asunto Oy Helsingin Flooranaukio ja Kiinteistö Oy Lontoonkuja form an integral city block with a common courtyard that opens up towards the Toukola shore park on the south side of Lontoonkuja Street.
The redbrick cladding and the openings of the building's street façades imitate the rationalism of the old industrial buildings of the Arabia area. This is contrasted by the light colour of the courtyard-side façade, which flows in free form bringing light and variety to the deep city block.
The white concrete surfaces of the undulating elements of the internal courtyard are enlivened by a floral motif fabricated in connection with the production of the precast façade and balcony elements. The motif is made from mosaic concrete using waste porcelain from the production process of the Arabia factory. The compatibility of the curved façade elements, the dimensional precision of the parts, the structural details as well as the development of mosaic surfaces have been particularlydemanding. The balcony rear wall and reveal elements are made from form lined pigment-dyed concrete. Brick façades have also been realised through a demanding precast technique. [1]
[1]Press Release of the Association of Finnish Concrete Industry