Enghuset, Gistrup, Danemark
Architect Kim Flensburg from architects Nord A / S was honored with the Danish Precast Concrete Award and the famous Utzon-statuet for designing a passive house building, called Enghuset.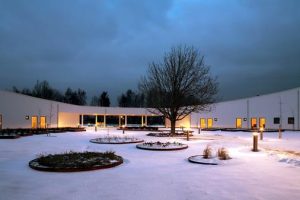 Enghuset was built by the association Vanggården for Aalborg Municipality and it serves as a residence for 36 people suffering from schizophrenia.
The building is circular with a likewise circular courtyard. The area is a total of 5,800 square meters.
The facades are constructed of curved wall elements with external insulation finished with stucco facade.