Denmark – Funen architects win the concrete industry Oscar
Funen architects Mette Tony and Mads Bjørn Hansen of Praksis Arkitekter in Troense on Tåsinge awarded Betonelement Prize 2017 and Utzon statuette – popularly known as the construction industry's Oscar. They have been awarded the Concrete Element Price and the statuette for their special architectural concept, for the transformation of Frihavns Tower – a worn out grain silo in Copenhagen's new fashionable neighborhood, Nordhavn -into a sustainable housing of high architectural quality.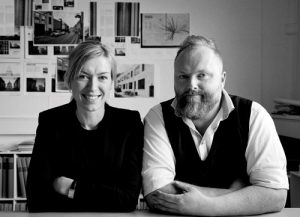 Picture source: http://www.bef.dk/inspiration/betonelement-prisen/vinder-2017/
Pleasure to touch the building
– Frihavns Tower is an original example that old industrial buildings are excellent basic material to work with. Praksis Arkitekter managed to create a beautiful connection between the overall architectural concept and the details that gives the viewer the desire to get closer, want to touch the building, says the chairman of Concrete Element Price jury, Kent Martinussen, CEO of the Danish Architecture Center.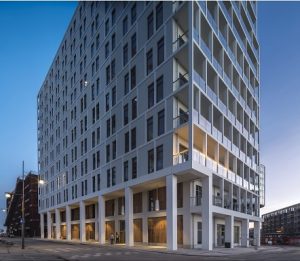 The jury highlighted the silo's north facade, which has inserted fields with oak planks. The motif of oak on concrete continues in the public access roads and in the apartments as flooring. The north façade is a display of how beautiful solutions are possible with precast concrete. The facade is a huge repetitive surface with delicate rhythms and depth, carried by a walkway of concrete columns.
The architects say that they "… have placed great emphasis on preserving the historical identity and homogenous form of the building and at the same time add a modern ease by surrounding the appartments with large, generous balconies …"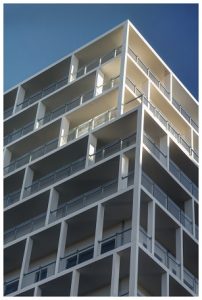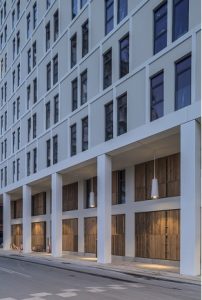 The Concrete Element Prize was established by the Danish Precast Concrete Association in 1978. It is given in recognition of outstanding architectural merits using concrete in a building. The Concrete Element Prize has previously been awarded to many outstanding Danish architects, including Signe and Christian Cold, Lene Tranberg, Bjarke Ingels and Kim, Jan and Jørn Utzon.
About Frihavns Tower
78 apartments in Nordhavn (Østerbro, Copenhagen)
Frihavns tower has a living area of 11.000 kvm, which is spread on 12 floors with 3 – 3,7 meters to the ceiling and large balconies.The individual apartments vary from 62 to 230 m2
The lobby is patinated with oak-panels, raw concrete and a ceiling of 4.70 meters
The roof garden is a common space, it overlooks the Copenhagen towers, to the coast and to Malmö
All apartments have wide terraces in a natural extension of the indoor environment
CONTRACTOR: HHM A/S
YEAR: 2016
ARCHITECT: Praksis Arkitekter
ENGINEER:  Henry Jensen Rådgivende Ingeniører A/S