KU Leuven's REGA student residence – Belgium
Belgium : KU Leuven's REGA student residence wins the FEBE Outstanding Precast Award 2016
Picture: © Stradus Infra
Residents can enjoy a large indoor garden with views of the Vunt river. The design office Michel Pauwels created a terrace on the water's edge that is also the highlight of the project.
Prefabricated concrete blocks made to measure in various sizes by Stradus Infra nv form a terrace with different levels.
Architect: Michel Pauwels
Manufacturer: Stradus Infra
Contractor: Vanhoeyveld bvba
Client / Adjudicator: KU Leuven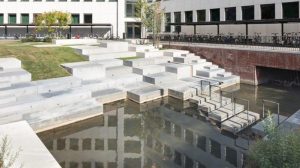 Picture: © Stradus Infra
The Wilrijk Square

Picture: © Stradus Infra
The Small Scale Precast Award was awarded to the Wilrijk Square project by Ontwerpbureau Stramien. Aquaflow pavement were used to create this pathway which is used for jogging and hiking. The pavement were manufactured by Stradus Infra nv. and it is a combination of two models of pentagonal shaped drainage blocks.