MontLegia hospital Bridge – Belgium
Bridge to MontLegia hospital in Liege (CHC Bridge)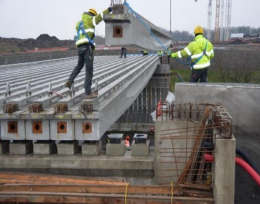 Photos: © Greisch Office
Architects: Greisch Design Office
Prefabricator: Ergon nv
Entrepreneur: AM Franki – De Nul – Eloy
Design Office: Greisch Design Office
Client / Adjudicator: CHC (Chrétien Hospital Center) – SPW Liège Roads Directorate
The bridge consists of two spans of 33 meters each side with 18 prefabricated beams, for a total width of 11 meters. The beams are prestressed and support their own weight. Longitudinal and transversal post-stressing was applied on site to resist the overload of traffic.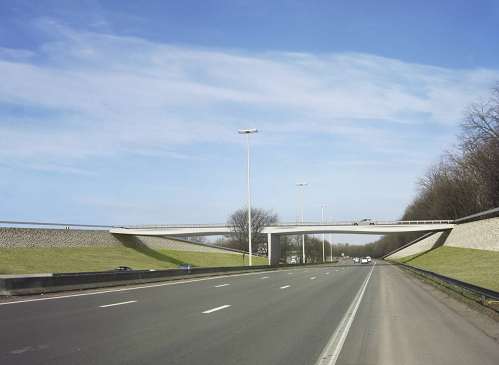 The implementation of the upper flange of the beams makes the project special. The shape of the sole is in effect designed that only the longitudinal key was poured on site after making a seal between beams. In this way, moulding is not necessary. Once the transversal prestress was applied, the upper soles act as slab of decking. This method allows a very quick work.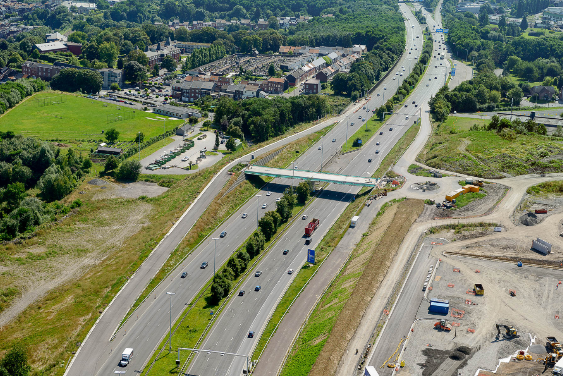 Thanks to the quick assembly of prefabricated concrete, traffic was barely disturbed on one of the main arteries of access to Liege.
The opinion of the jury
The jury was seduced by the very thin design of the bridge combined with a precise design of bending. The bridge shows the essence of prefabrication: precise, high-quality work with beautiful aesthetics.
The jury also highlighted the great precision that this project has requested in the combination of prestressing and the prefabrication process. It also rewarded the aesthetics, elegance and architecture of the bridge which was made possible using prefabricated concrete.
The speed of execution is also a characteristic that the jury wishes to reward. This allowed reduce disturbance to traffic and decrease nuisance.