Stormen Concert Hall and Library – Norway
The Norwegian Precast Concrete prize 2015 is awarded to DRDH Architects for Stormen Concert Hall and Library
The new library and concert hall, Stormen , in the city of Bodø, realizes an important though previously undeveloped part of the city center in an outstanding way.  The new buildings contribute to a revitalization of the area Storgata, Sjøgata, the harbor and Hålogalandsgata. Stormen and its public areas create space for activites in the previously empty harbor quarter.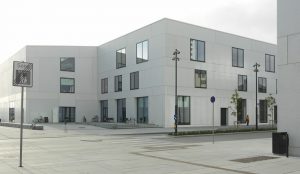 The buildings  are situated in a challenging context where they must relate to the existing street grid, the harbor, the landscape as well as the diversity of the surrounding existing buildings. The challenge is met in an exemplary way by creating two volumes that complete the block without dominating the cityscape. The context is underlined by a specific expression in the different facades through a conscious composition of the façade elements.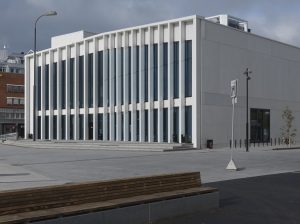 The two buildings comprising Stormen have facades of precast concrete. The white facade elements are brushed and lightly polished highlighting the marble structure in the surface. The geometry of the façade elements is complex; with its precise joints, corners and window openings, it expresses a  serene  elegance. Mirrored in the two buildings, the geometrical design relates them to each other in a distinct way. The facades and columns reaching upwards give the buildings dignity in interaction with the surrounding buildings and coastal landscape, and emphasize the important role the  buildings have in the city center.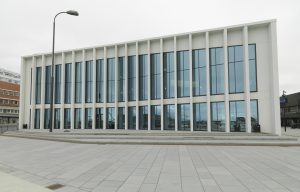 The materiality and the white surfaces of the facades change with the  seasons; reflecting the low northern sun down on to the streets, or the rain subduing the concrete surfaces. This adds character and variety of expression to the buildings. At the same time, the white color and shape of the buildings create associations to mountains and winter landscapes.
The innovative use of precast concrete façades is essential for the unique design of the building. The details are thoroughly planned and consistently implemented, from the size and form of each element to the small details in the columns, windows and entrances. The precast façade elements are used in a challenging manner, partly due to the overlapping corners as in masonry. The complex pattern of division in the elements invite curiosity regardless of the perspective from which they are viewed.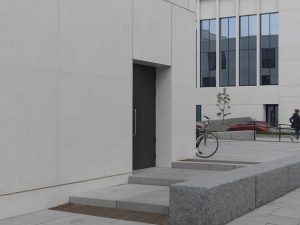 Through superior architectural and functional quality, Stormen Concert Hall and Library constitute two important buildings in the center of Bodø city. The project is the result of a  bold process and excellent cooperation between client, architect and the precast concrete producer.
The Precast Concrete Architecture Prize jury has decided to award the prize for 2015 to DRDH Architects for their work with Stormen Concert Hall and Library.
Facts:
Category: Cultural building
Client: The Municipality of Bodø
Architect: DRDH Architects, London
Acustics and scene technics: Arup
Landscaper: Dark Arkitekter AS
Size: 18 038 m2
Localization: Storgata 1A og 1B, Bodø
Finalized: 15 november 2014
Precast Concrete: Overhalla Betongbygg AS