Victoria Gate – Leeds, UK
Techrete for John Lewis, Victoria Gate – Leeds, UK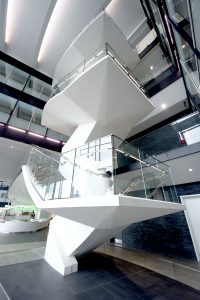 The British Precast Concrete Project Award 2017 was won by Techrete.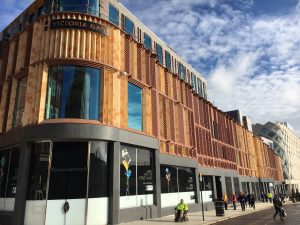 For the flagship John Lewis store in Leeds, the diagrid pattern was deconstructed by Techrete engineers to panelise a façade to enable production. Innumerable intricate details regarding the geometry, the engineering and the manufacturing were combined in 3D BIM, from which over 600 drawings were generated. Many challenges were successfully overcome: accuracy of facetted corners, contrasting finishes within single units, installation of unusually shaped units of up to 14 tonnes in weight and the requirement for unique permanent fixing methods.
Precast concrete products are used for a wide range of applications in our built environment. This award showcases projects that deliver on aesthetics, functionality, innovation, workmanship, cost-effectiveness and demonstrates the inherent benefits and properties of precast concrete.[1]​​​​​​​
[1] https://www.britishprecast.org/Awards/Project-Award-2017-Shortlist!.aspx