The Vulcan industrial district developed into a modern area with offices and shops achieving an energy class "A" while apartments achieving energy class "B". Historical and new buildings are built side-by-side, modern buildings well adapted to the old industrial buildings in terms of proportions, geometry and colours.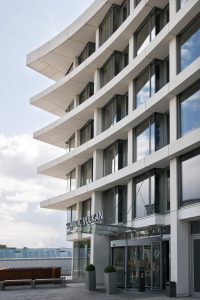 The Vulcan project adopted new materials and product utilizes fibre concrete in a unique way which resulted in a significant reduction in material use. Facades are exciting formed where all transitions are carefully thoughtful and precisely designed.
Please find more information on the architect here.