WOODS Student housing – Belgium
The Belgian Precast Concrete Federation held its annual award ceremony on 28 November and in this edition, we present the winner of the category "Precast in building".
WOODS Student housing[1]
Description: Student housing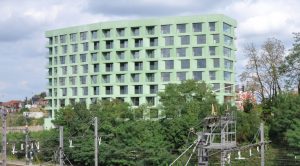 Architecte : Crepain Binst Architecture
Manufacturer : Verheyen betonproducten nv
Client: Dyls NV
Location: B-Leuven (Kessel-Lo)
Project Manager: Edwin Remmerie
Collaborators: Anke Vandenbempt, Wim Heyninck
Stability: Arcade Ingenieursbureau
Engineering: SB Heedfeld
General Contractor: Dyls NV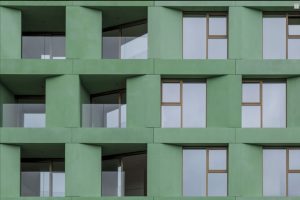 WOODS is an architectural eye-catcher: trendy student rooms in the heart of a brand-new city park in Leuven. A place where students stay, relax and study in an exceptionally green environment with the lively city centre within easy reach.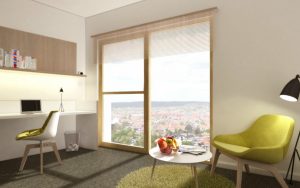 A new building on the head of the new Belle-vue park between rail and Kessel-Lo.
The "nods" in the building create an elegant sharply volume, with the rhythmically striking facade elements. Built-in terraces on the side of the road bring depth into the facade, while large windows on the building ensure openness.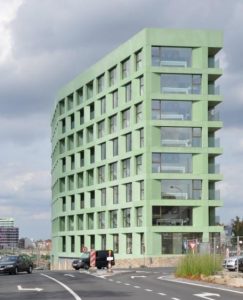 Each of four facades has its own character while connected by the rhythm of the panels. The finely detailed green acidified concrete combines with bronze joinery to a stylish whole that matches the green park.
On each floor there are about twenty-one high-grade student rooms, 157 in total, and on the top, there are the common areas (kitchen and living room for example). All windows are full-length and reach the floor to make it open, light and bring the nature in.
[1] Source: http://www.crepainbinst.be/projects/group-housing/
Pictures are the courtesy of Crepain Binst Architecture and Dyls NV