Precast concrete in urban transformations
Precast concrete – the ultimate construction material for smart urban transformation
---
A reliable, durable construction material which is quickly erected on site while keeping the surroundings clean? A material which doesn't endanger the raw materials of the future generations and lessens your energy use by storing heat?
Cities are going through major urban transformations in the years to come
Challenges:
Increase life quality of citizens
Increasing commuting traffic
Integration of people and integration of different aspects in life
Aging population
Precast concrete is the ultimate material answering to these wishes. Due to its industrialised, modular production, precast concrete elements are transported to the production site at once and erected in some hours. Precast concrete products manufactured in plants (finished or semi-finished assembling on site), are offering the guarantee of a constant and controlled industrial quality, streamlining the production structures, to reduce costs and construction time.
---
BIBM Precast Urban Transf 3 (final)
It is ideal for constructing in urban areas, either in a neighbourhood of a calm residential area, where noise disturbance is not appreciated; or on a busy road where long disturbance of the circulation is not possible. Precast concrete structures can be put in place during one night by causing the least disturbances for the citizens in terms of traffic and noise, with a minimum amount of waste at construction sites.
While urbanisation is undoubtedly bigger than ever, where more than 70% of EU population live in urban agglomeration, the use of a smart, sustainable material that masters deadlines is indispensable. A building fabric with a "built-in DNA" for modularity , it is easily adaptable and flexible to respond the evolutions and changed societal needs of the buildings, neighbourhoods and mobility. Being easily and quickly put in place, if offers ideal solution for reorganisation of districts. Consequently, it helps to renew old, abandoned city quarters, enhance the quality of neighbourhood and make them safer while indirectly improving social inclusion.
For the protection of the environment it is not recommended to further expand the built-in land use while expanding the area of built environment. Urban transformations such as lateral or vertical extension of existing buildings hides enormous housing potential in dense urban areas. Precast concrete offers homogenous or heterogenous solutions to existing building blocks with good loadbearing capacity. Increasing the density without impacting the urban green space or additional land use, while offering affordable homes, precast concrete is truly a sustainable construction material.
Future cities and smart urban mobility require an effective public transportation system, tram and train rails, underground parking, tunnels and well-functioning water management system. Safe and durable chimneys and basements are indispensable part of a healthy building and infrastructure as well. Concrete's contribution is undisputable in all these areas and the industrialised way of construction offered by precast concrete fulfil the requirements of a quick, safe and precise construction phase and maintenance free use phase. Using light-colored concrete pavement has proven effective in reflecting up to 50% more light than asphalt and reducing heat island effect.
Precast concrete also stands its ground when facing the requirements for a modern, innovative construction material that can take any shape or finish an architect can dream of. Building Information Modelling (BIM) enables virtual conceptualization and makes it possible "to build before building" by reducing risks and guaranteeing quality. A material which is continuously evolving, it delivers innovative developments, self-cleaning or permeable concrete.
By storing energy due to its thermal mass, it creates a more stable indoor temperature and it reduces the power demand while offering excellent acoustics. At the end of life, it is easily deconstructable and recyclable for other applications, thus precast concrete perfectly answers to the criteria of circular economy.
Besides, precast concrete plants are situated close to raw material sources, therefore it minimises the transport distance and the emission of CO2 linked to transport. Concrete production uses abundantly available raw materials (aggregates) therefore it doesn't jeopardise the availability of these materials for the future generations and it doesn't put pressure on the environment.
By being situated outside of big cities; precast concrete plants transfer and create value in rural areas that often deteriorate vis-à-vis big cities that absorb the young employment. Consequently, it helps to keep the natural economic balance between big cities and countryside.
---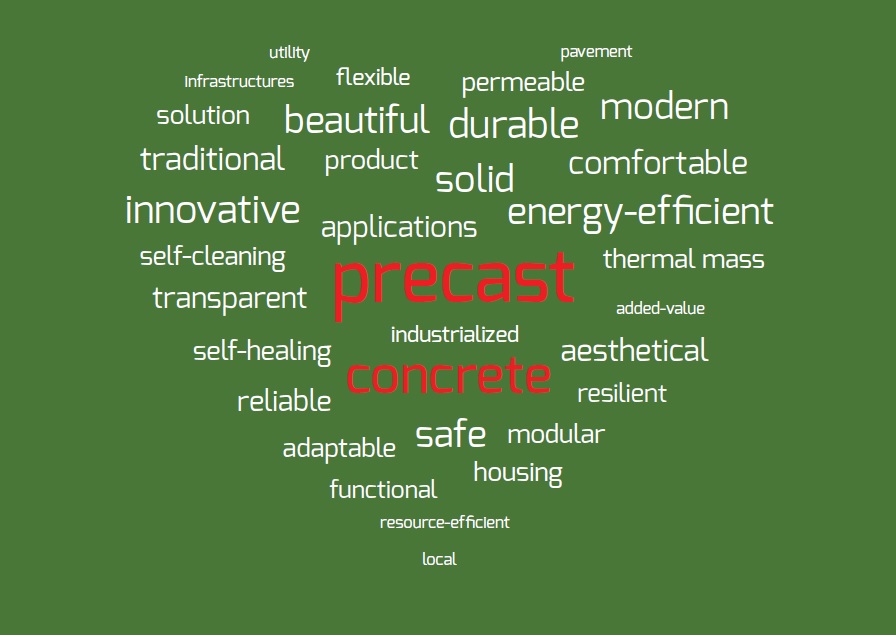 ---